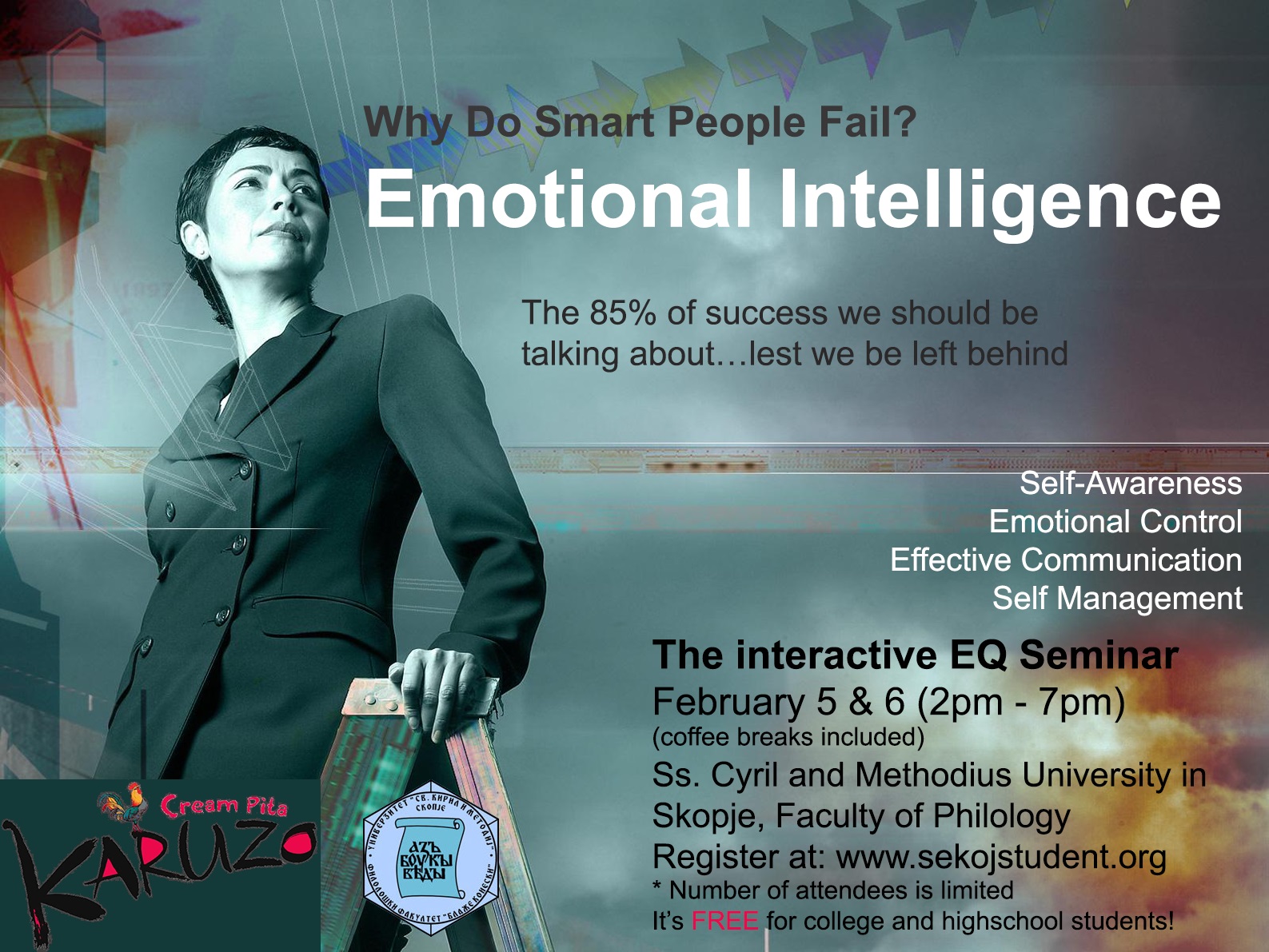 The Emotional Intelligence Workshop


What is emotional intelligence?

Emotional Intelligence is our ability to manage our emotions intelligently. A joint study by Harvard and Stanford Universities found that only 15% of success in life is due to IQ (mental intelligence), and 85% is due to EQ or Emotional Intelligence (Emotional Intelligence, Daniel Goleman).


Why is emotional intelligence important?

Mental intelligence, or IQ, is only one part of who we are. EQ (Emotional Intelligence) involves increasing our self-awareness and deals with how we process delayed gratification, fear, anger and anxiety. People with excellent emotional intelligence have good self-awareness and are aware of how their emotions are affecting them and others around them. Good emotional intelligence is demonstrated in a person's ability to resolve conflict well, manage hurtful impulses and listen with empathy. The two broad categories of EQ are Personal Competence and Social Competence. Personal Competence includes self image, self-awareness and self-control. Social Competence includes social skills and listening skills.


What is included in the EQ Workshop?

This two day workshop provides students with an opportunity to grow in their own personal self-awareness, learn how to handle their emotions more effectively and to improve their interpersonal communication skills. The workshop has three elements:
Self-Assessment.

Students will have the opportunity to complete three self-assessment tools in preparation for the workshop. These tools will increase their self-awareness and will help identify areas for personal growth.

The interactive workshop

The two day workshop includes sessions focusing on defining emotional intelligence and helping students learn how to be more effective in their self-awareness and relationships. The sessions include:

Ø What is emotional intelligence?

Ø Self-awareness (interpreting the results of the self-assessment tools).

Ø Emotional awareness – understanding one's emotions and learning how to manage one's emotions.

Ø Interpersonal communication – learning simple, effective listening skills that will help each person communicate more effectively.

Ø Adaptability & Stress Management – Skills for managing stress and developing greater flexibility in life.

Ø Conflict management – understand the dynamics of conflict and how it involves our actions, emotions and identity. Practical steps for resolving conflict will be practiced.

Ø Personal Development Process – Each student will have the opportunity to begin identifying 1-3 priority areas for personal growth in order to become more effective.


A personal development plan and coaching opportunity

Individual coaching sessions are available for students to meet with one of the workshop facilitators to make a personal action plan for growing in emotional intelligence.


When and where the seminar will take place?

5th and 6th of February (Friday & Saturday), both days from 2pm until 7pm (coffee breaks included). The first day you need to show up at 1:30pm for registration.
The seminar will take place at Ss. Cyril and Methodius University in Skopje, Faculty of Philology.


How can I register for the seminar?

This seminar is only for high school and college students and it's completely FREE.
Each attendee will receive certificate, personal developing plan and optional mentoring.

Download following tests to evaluate your EQ. Test1 Test2 This must be done before the seminar if you plan to attend.

After you finish the registration form below, you are WELCOME on Friday, February 5th, 2016 at 1:30pm at Ss. Cyril and Methodius University in Skopje, Faculty of Philology. The registration will go from 1:30pm until 2:00pm. The seminar starts at 2pm until 7pm both days (5th and 6th February).